Regular price
$33.66 USD
Sale price
$33.66 USD
Unit price
per
Sale
Sold out
V60 Ceramic Dripper 02 Set

With the Hario V60, you can try out and discover delicious coffee. It is chosen by professionals in the front line and used in more than 75 countries and territories. You can change the flavour tailored to various preferences by adjusting the brewing method, while ensuring a proper extraction of delicious taste and aroma from the coffee beans.

Including in Set
1) Hario VDC-02W V60 Ceramic Dripper
• The V60 Ceramic Dripper is crafted with the traditional Arita yaki method which has been handed down for 400 years. The long-held Japanese "Monozukuri"
(innovative production) spirit that pays attention to small details supports the functional beauty of HARIO.
ARTICLE NO. XVDD-3012W
COLOR - White
SIZE - W 140? D 121? H 210mm
CAPACITY - 1-4 cups
WEIGHT (incl.individual box) - approx.900g
MATERIAL -Glass server / Heatproof glass
Lid, Handle, Measuring spoon / Polypropylene
Dripper / Porcelain
COUNTRY OF ORIGIN - JAPAN

2) Heatproof pot
• Glass body is made from glass which has heat resistance temperature up to 120 degree Celsius.
• Handle and Lid is made from Polypropylene the food grade plastic and left no toxic residue to the coffee. The heat resistance temperature is up to 140
degree Celsius.

3) Hario VCF-02-100M V60 Paper Filter
• A package of 100 paper filter from Hario is suited for brewing coffee with Ceramic Dripper for the best performance in taste and scent.

4) Measuring spoon
• A measuring spoon is made from Polypropylene and its heat resistance temperature is up to 120 degree Celsius.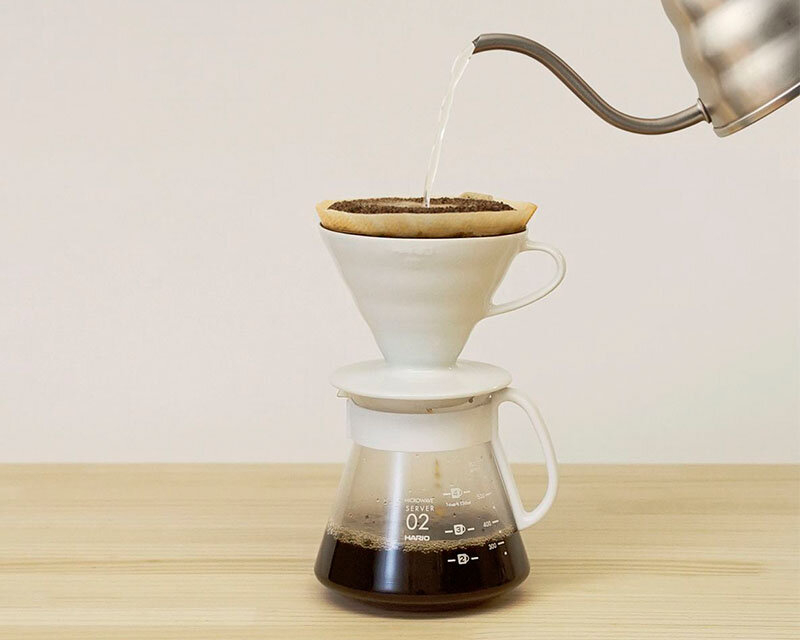 Share
View full details